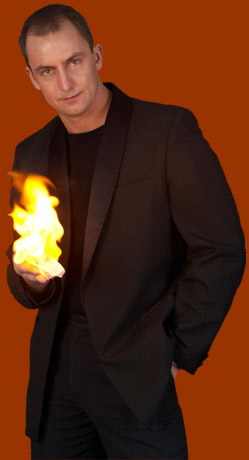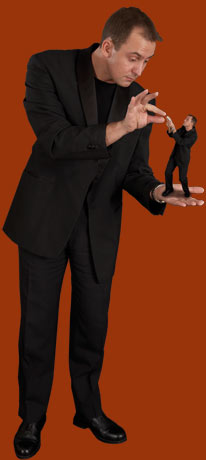 David has been a keen disciple of the art of magic since a magician first pulled a coin from behind his ear at the tender age of ten.
Throughout his teens, he continued to develop his interest in magic, finding it not only a useful tool to meet new friends, but also to keep the school bullies on his side!
In his late teens, seeking travel and adventure, David decided join the Royal Marines, and spent thirteen years travelling the world and using his magician skills to wow and entertain his fellow servicemen at every possible opportunity. His antics were often a welcome relief, lifting the spirits of his men when times got tough. David also enjoyed a brief spell of fame when he competed several times for his country at Decathlon, with the Royal Marines sponsoring him to train full time. He narrowly missed an opportunity to attend the 2000 Sydney Olympics.
Eventually the pull of magic and the thrill of performing was just too strong. David had a burning desire to entertain and in 2000 decided to leave the Royal Marines to pursue his dream of becoming a professional magician.
Utilising the discipline he learned from the Royal Marines and his training background from athletics, David worked for many years to perfect his act and is now one of the busiest working professionals in the country. His modern and humorous approach to the art of close up magic has made him one of the most sought after close up magicians in the business. He is often the entertainer of choice by many of the world's largest blue chip corporations, celebrities and politicians.
In the summer of 2006 he was invited to perform in the presence of HM the Queen at Buckingham Palace as part of her 80th birthday celebrations and he performs regularly at venues such as The House of Lords, Inner Temple, The Royal Horseguards and many of London's top hotels and nightspots. Recent client commissions have included PriceWaterhouseCooper, Lastminute.com, The London 2012 Olympic Committee, BAE Systems, O2, Porsche and Audi and many more.
David is also a qualified television presenter and regularly discusses magic and pick-pocketing on national and international television and radio. He's had a starring role as a magician in an international television advertising campaign and has recently appeared on the BBC's Question of Sport and on Sky's Ryder Cup coverage.
David is a member of the prestigious Magic Circle and in 2006 was promoted to an Associate Member of the Inner Magic Circle (AIMC) with a Silver Star for performance, the highest award obtainable within The Magic Circle by examination. He is also a member of The International Brotherhood of Magicians, Equity and was a former President of the Portsmouth and District Magic Circle. David has won numerous competitions and awards for his performances and creativity within magic and is currently training for a magic related world record.